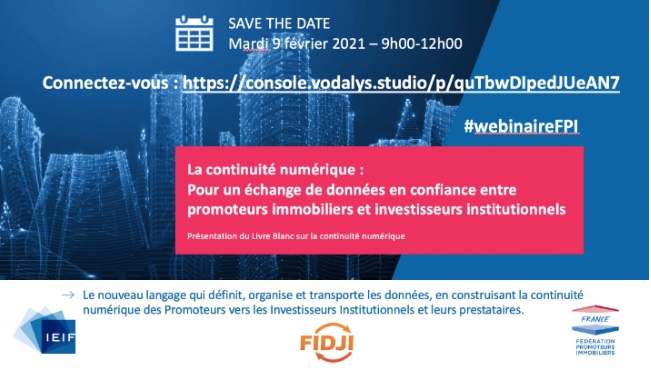 Webinar: Digital continuity in REAL ESTATE
An exceptional morning
Good morning all,
We are pleased to announce the organization of an exceptional morning on February 9, 2021, from 9 a.m., which you can attend for free by clicking on the following link:
Webinar February 9, 2021 Digital real estate continuity
Many emblematic personalities of our industry will share their vision on digital real estate continuity in the 21st century.
The morning will begin with two interventions:
9h – Keynote from Alexandra FRANÇOIS CUXAC, President of the Federation of Property Developers.
9:20 a.m. – Keynote from Xavier LEPINE, President of the Institut de l'Epargne Immobilière et Foncière.
The morning will continue with two round tables, the details of which you will find using this link.
The digitization of our old real estate industry is accelerating and we are clearly moving from a policy of intention to that of reasoned, collective and pragmatic action.WEBINAR: DIGITAL CONTINUITY IN REAL ESTATE